26 Jul 2019

Alternative UCITS continue to perform well in 2019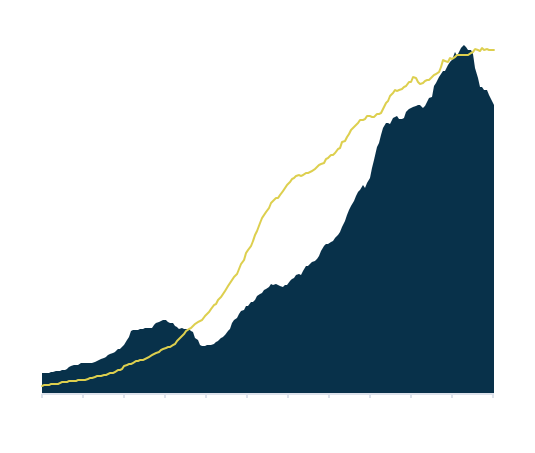 Most Alternative UCITS funds are having an excellent 2019 sofar. The LuxHedge Global Alternative UCITS Index posted a gain of +0.95% in June, bringing year-to-date results for the average fund up to +2.71%. 4 out of 5 funds are able to post positive results so far this year. Nearly every strategy is doing well, with funds in Macro and Merger Arbitrage continuing to lead the pack.
Equity Hedge strategies are lagging behind the general market, mainly due to Equity Market Neutral funds that continue to struggle in 2019. The LuxHedge Equity Long/Short UCITS Index was up +0.90% in June, +2.91% YTD with strategies focussing on US and AP doing particularly well. In contrast, the LuxHedge Equity Market Neutral UCITS Index is having one of the worst years sofar, with a flat performance of -0.02% in June and a negative YTD result of -1.39%. The underperformance is largely due to quant market neutral funds which were down -3.73% on average this year.
Fixed Income Alternative UCITS strategies continue to edge higher with both Rates Long/Short UCITS (+1.24%) and Credit Long/Short UCITS (+0.78%) gaining ground in June. Within the Macro space, Discretionary Macro managers continue to have a very good 2019 as well: LuxHedge Discretionary Macro UCITS Index +0.75% in June, +3.41% in 2019. CTA strategies enjoy one of their best years sofar with the LuxHedge CTA & Managed Futures UCITS Index gaining +2.55% in April, +7.51% YTD.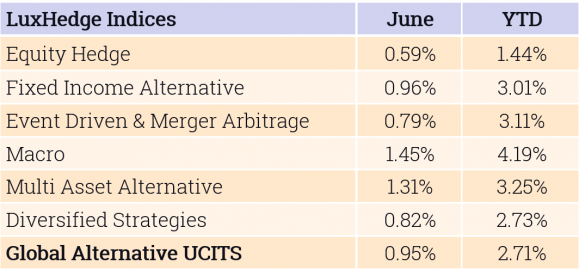 Large Asset flows continue in Q2
Investors are shifting allocations within Alternative UCITS by quite a bit this year. Absolute Return Bonds and Absolute Return Multi Strategy funds increased their assets with more than 3BEUR in the second quarter, but the general trend was down again with the total Alternative UCITS space losing 20BEUR in assets (-4.9% QoQ).
Outflows are particularly due to a few very large funds that came under pressure (H2O, Standard Life, Merian), but asset outflows within equity long/short and multi strategy funds are more broadly spread across the space.